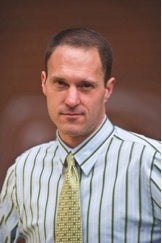 Christopher Lemons, a former MCPER staff researcher and current MCPER collaborator, has received the U.S. government's highest honor for science and engineering researchers in the early stages of their careers.
President Obama selected Lemons among 105 recipients nationwide of the Presidential Early Career Award for Scientists and Engineers. President Clinton established the award in 1996 to recognize "innovative research at the frontiers of science and technology and … commitment to community service as demonstrated through scientific leadership, public education, or community outreach," according to a White House press release.
Lemons, an assistant professor at Vanderbilt University, is a principal investigator of the National Center for Leadership in Intensive Intervention, a consortium that prepares special education leaders to become experts in research on intensive intervention for students with disabilities who have persistent and severe academic and/or behavioral difficulties. MCPER faculty members and scholars are part of the consortium through The University of Texas Austin, one of seven partner institutions. Lemons previously worked on multiple MCPER projects.
For more information on the prestigious award, see the White House press release.