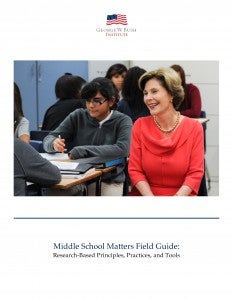 A completely revamped second edition of the Middle School Matters Field Guide, the only such compilation of research focused on the middle grades, has been published and is now available online.
The field guide is a collection of research-based principles, practices, and strategies deemed essential for middle school success. Experts from across the country contributed to the field guide, which contains examples and illustrations for each recommended practice to help educators understand and then implement these practices in their classrooms and schools.
The Middle School Matters Institute, in partnership with the George W. Bush Institute, led the development of the second edition.
To download the entire field guide or individual sections, visit the MCPER Library. For more information, read the Bush Institute press release.