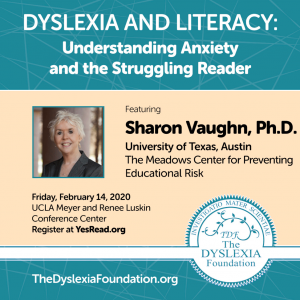 MCPER Executive Director Sharon Vaughn and Boston University's Amie Grills will present next month at a national conference of The Dyslexia Foundation at UCLA.
Their presentation, "Classroom Strategies to Address Anxiety in Children Who Struggle With Reading," will explore the MCPER project Improving Reading and Reducing Reading Anxiety Among Students With Reading Difficulties. Along with MCPER Associate Director Greg Roberts, Vaughn and Grills are co-principal investigators of the project, the first and only initiative with 2 years of data on anxiety and struggling readers.
The theme of this year's conference, to be held on February 14, is "Dyslexia and Literacy: Understanding Anxiety and the Struggling Reader." According to The Dyslexia Foundation, the conference is designed to help "teachers, practitioners, and parents … learn to identify, understand, and provide evidence-based instruction for struggling readers who have anxiety. The focus of these discussions will be for school-age students." For more information and to register, visit the website of The Dyslexia Foundation.