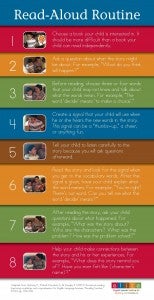 MCPER's Project ELITE has created a read-aloud routine that parents can use during the summer to increase their children's vocabulary and comprehension. And the eye-catching resource is already receiving rave reviews. 
"Parents want to know how to read to their children, and this is perfect to use," said Deb McKinney, a kindergarten teacher at Baty Elementary in Del Valle Independent School District, where Project ELITE has been working. "Students are told, step by step, what to do—and exactly how to do it. Sure, you can say, 'Read a book every night.' But how should you read? This routine takes it to the next level."
The large-format bookmark, pictured at right and posted in our Library, is the brainchild of ELITE Project Director Leticia Romero Grimaldo and MCPER Senior Graphic Designer Carlos Treviño. It features the routine in English on one side and in Spanish on the other.
For more information about Project ELITE, visit its project website. For more information about this tool, contact Dr. Grimaldo.