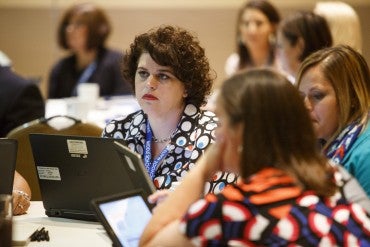 MCPER's Middle School Matters Institute (MSMI) is collaborating with San Angelo Independent School District in San Angelo, Texas, to provide professional development for teachers, paraprofessionals, instructional coaches, counselors, and administrators who serve students in fourth to ninth grades.
The "Summer Learning-palooza" will be a conference-style event with sessions featuring San Angelo's lead educators and MSMI's national experts in reading (Deborah Reed, University of Iowa), writing (Tanya Santangelo, Arcadia University), and mathematics (Sarah Powell, The University of Texas at Austin). Sessions will be held in the morning and afternoon on June 29 and August 4 and will provide participants with hands-on, practical, research-based strategies that can be immediately implemented in the classroom.
Registration is free and open to all school districts in Texas. For more information, contact Matt Kimball at Matthew.Kimball@saisd.org or 325–947–3838 (extension 718).
As an extension of the "Learning-palooza," MSMI's David Barrett will work with leadership teams from San Angelo's three middle schools—Lee, Glenn, and Lincoln—to develop implementation goals and plans that will facilitate translating the research presented into practice. This work will build upon San Angelo's implementation of Middle School Matters principles and practices from the past 2 years. Since 2014, San Angelo has been selected twice to participate in the Middle School Matters program (funded by the George W. Bush Institute) and receive intensive professional development and support to build its capacity in reading, writing, and mathematics instruction and intervention.