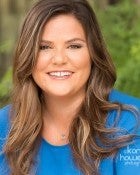 MCPER's Christy Austin has won a national award in recognition of her high-quality study on word-reading and word-meaning instruction for fourth- and fifth-grade students with dyslexia.
Austin won the Council for Exceptional Children Student Research Award for a manuscript based on her doctoral dissertation, which she completed with MCPER Executive Director Sharon Vaughn as her advisor. A maximum of four Student Research Awards are given annually. Austin will be recognized at the council's 2020 Convention and Expo and will receive a cash award.
The study, "The Relative Effects of Instruction Integrating Word Reading and Word Meaning Compared to Word Reading Instruction Alone on the Accuracy, Fluency, and Word Meaning Knowledge of Fourth- and Fifth-Grade Students With Dyslexia," found that the combined instruction significantly improved accuracy, fluency, and word-meaning knowledge immediately following the intervention and at a follow-up posttest. The findings suggest that students with dyslexia, who often receive intervention focused solely on word reading, would benefit from brief instruction in word meaning.
Though Austin continues her work with MCPER as a consultant, she now serves as an assistant professor at the University of Utah in the Educational Psychology Department's Reading and Literacy Program.