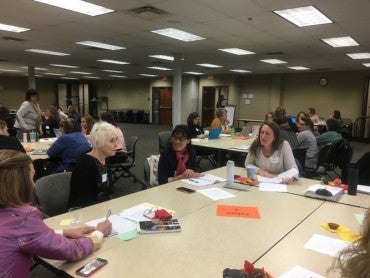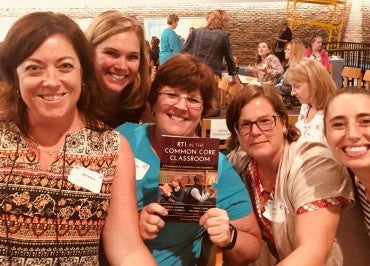 MCPER Executive Director Sharon Vaughn recently shared her expertise during a Distinguished Scholar Symposium for the Higher Education Literacy Partnership of Minnesota (HELP). 
The workshop, held September 28 at the Minnesota Department of Education offices, was based on her book RTI in the Common Core Classroom: A Framework for Instruction and Assessment, co-authored with MCPER researchers Phil Capin, Garrett Roberts, and Melodee Walker.
The Distinguished Scholar Series features a "single-day workshop held each fall that brings world-class scholarship to Minnesota educators [and] personal interaction with the speaker, as well as peer-to-peer learning and networking," according to the HELP Events webpage. Past Distinguished Scholars include nationally recognized researchers Barbara Foorman, Steven Graham, Nonie Lesaux, Catherine Snow, and Maryanne Wolf.
Based on their feedback, participants enjoyed the symposium. One special education teacher reported that it was "one of the better—if not best—one-day conferences I have been involved in!" A literacy coach appreciated the "combination of research and practical application." For more feedback, visit the HELP Comments webpage.
Earlier this summer, RTI in the Common Core Classroom was the topic of two HELP Book Clubs. The Book Clubs are held each summer to "stimulate conversation about the application of research to teacher preparation, professional learning, assessment, and reading instruction."