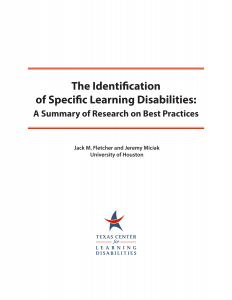 The Texas Center for Learning Disabilities has published a new report that summarizes the research base for popular methods for the identification of specific learning disabilities and makes recommendations for practice.
The Identification of Specific Learning Disabilities: A Summary of Research on Best Practices—authored by Principal Investigators Jack Fletcher and Jeremy Miciak, both of the University of Houston—begins with a summary of the legal requirements for specific learning disability identification and the necessary components and features of a comprehensive evaluation for special education. It then discusses the attributes of specific learning disabilities according to different conceptual frameworks and reviews research on the reliability and validity of different methods for identification. The report concludes with recommendations for best practice.
The Texas Center for Learning Disabilities is a partnership between the University of Houston, The Meadows Center for Preventing Educational Risk, and The University of Texas Health Science Center at Houston. Center research leads to a more comprehensive classification of learning disabilities, a more integrated understanding of intervention for children with reading problems, and important cross-discipline insights into the nature of learning disabilities. Currently, this research takes the form of four projects to be conducted over the next five years.
For more information and to download the report, visit the Texas Center for Learning Disabilities website.