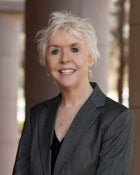 MCPER Executive Director Sharon Vaughn is the first recipient of the College of Education Dean's Distinguished Research Award.
The honor, established to recognize a faculty member's distinguished and sustained record of research and scholarly contributions, was awarded by Dean Charles R. Martinez Jr.
Vaughn is renowned for her research on the development and evaluation of instructional practices to improve outcomes for students with reading difficulties. She is the most highly cited female professor at The University of Texas at Austin and among the 20 most highly cited professors overall. Vaughn also is the director of MCPER's Reading and Dropout Prevention institutes; the Manuel J. Justiz Endowed Chair in Math, Science, and Technology in Teacher Education; and a professor in the Department of Special Education: Learning Disabilities/Behavior Disorders program.