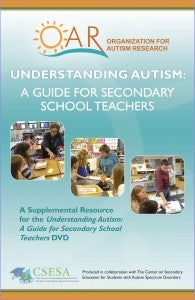 The Center on Secondary Education for Students With Autism Spectrum Disorders (CSESA) and the Organization for Autism Research have published a multimedia guide that provides secondary school teachers with research-based strategies for adolescents with autism spectrum disorders.
"Understanding Autism: A Guide for Secondary School Teachers" aims not only to enhance learning opportunities for adolescents with autism spectrum disorders, but also to improve the classroom environment, according to a press release. The print and web instructional resource, which complements a series of training videos, is available online through the CSESA website.
A MCPER project is one of multiple CSESA sites.
For more information about this product, read the press release.