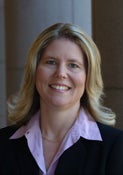 Brandy R. Maynard, a MCPER Dropout Prevention Institute fellow and an assistant professor in the Saint Louis University School of Social Work, has been elected to a 3-year term as co-chair of the Campbell Collaboration (C2) Social Welfare Coordinating Group.
C2 is a voluntary, nonprofit international research network that prepares, maintains, and disseminates systematic reviews of the effects of interventions in education, crime and justice, social welfare, and international development, so that policymakers, practitioners, and service recipients are better equipped to make informed decisions. The Social Welfare Coordinating Group, one of four C2 coordinating groups, is responsible for the production, scientific merit, and relevance of systematic reviews related to social welfare, health, and social justice.
As co-chair, Maynard will be responsible for leading the Social Welfare Coordinating Group's internal governance; setting policy, plans, and priorities; ensuring the quality of reviews; approving titles, protocols, and reviews after recommendations from the editor; and serving as a representative in the C2 Steering Group. Her term will begin in November 2014.
Maynard has been involved with C2 since 2008; she has authored two C2 reviews and is a co-author on two reviews that are in progress. She currently serves on the editorial board of the Education Coordinating Group.