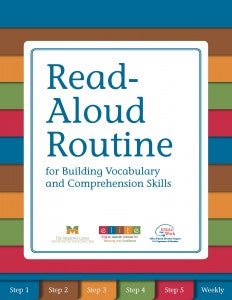 MCPER's Project ELITE has created a step-by-step flip book with visuals for a teacher read-aloud routine focused on vocabulary and comprehension development of English learners in the elementary grades.
The flip book guides teachers through the steps of the routine and includes strategies for supporting English learners' literacy development. Teachers can use the flip book throughout the weekly practice. The large-format resource, posted in the MCPER Library, was a collaborative effort based on feedback received from teachers on the project.
The eye-catching and user-friendly resource and read-aloud routine have been well received.
"Since implementing the read-aloud routine in my classroom, my students' reading comprehension and vocabulary skills have truly grown," said Amanda Wilkie, a second-grade teacher at Baty Elementary School in Del Valle Independent School District, where Project ELITE has been working. "They've gained a deeper understanding and constantly make connections not only across texts we read in class, but also in their own independent reading. This routine has helped to create a community of readers in my classroom who work together to build meaningful relationships with text."
For more information about Project ELITE, visit the ELITE project website. For more information about this tool, contact ELITE Project Director Leticia Grimaldo.