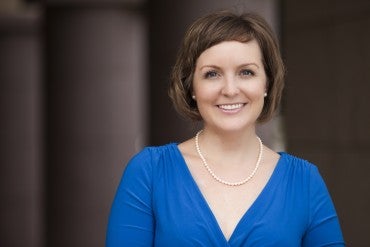 Sarah Powell—a member of the MCPER Board of Directors, principal investigator of multiple MCPER projects, and associate professor with the UT Austin Department of Special Education—has been named the associate director of MCPER.
"Sarah is a tremendous addition to the MCPER leadership team," said Greg Roberts, who will be continuing with MCPER as its new senior associate director. "She is an accomplished scholar, a skilled professional development provider, and a terrific colleague. She brings energy, ideas, and enthusiasm to her role as associate director, and I look forward to continuing our collaboration."
Powell began her work with MCPER in 2013. In her new role, she will work with the MCPER leadership team and coordinate efforts related to outreach. Powell has big plans to expand MCPER's expertise and reach, and she is eager to get to work.
"I want to develop meaningful avenues for sharing research with educators and caregivers," she said. "I also want to develop ways for MCPER to be a go-to resource for evidence-based practices for educators across the world."
Powell is the daughter of two teachers, and two of her grandparents were teachers. "I couldn't have avoided this if I tried!" she said.
Powell graduated from Centre College and then went to Vanderbilt University for a degree in school administration. Along the way, she taught kindergarten and spent several years working on research projects focused on students who experience difficulty with mathematics. She earned her Ph.D. from Vanderbilt University with a focus on special education. Among her many awards, Powell received the Presidential Early Career Award for Scientists and Engineers in 2019.
At MCPER, Powell is principal investigator of the Developing Connections Between Word Problems and Mathematical Equations, Interactive Read-Alouds for Prekindergarten and Kindergarten to Improve Literacy and Numeracy Skills, Promoting Scientific Explorers Among Students With Learning Disabilities, and Tiered Interventions Using Evidence-Based Research projects.
Plus join us in congratulating Dr. Powell!